Autumn Leaves: The Beauty & The Beast
by Greg Smith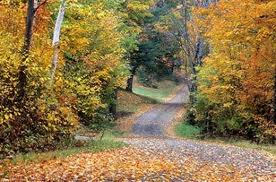 Fall has arrived and will soon award us with its beautiful colors. There may be no better way to experience these colors than riding a motorcycle on the open roads. Fall also starts the winding down of our riding season and at the same time, gives us some of our best and most colorful scenic rides.
As the leaves start showing there vibrant colors they also start to fall, blow around, and pile up. This piling up of leaves happens not only on our lawns and driveways, but also on the roads causing multiple road hazards. This is the Beast side of fall that we must endure.
We may assume that wet leaves offer less traction than dry leaves; this might be true. The real question is how dry are the leaves. Leaves hold moisture and as they start to decay they generate more moisture. The leaves on the top of a patch or pile may appear to be dry and blowing around. However the leaves underneath, on the road surface, may be wet and starting to decay causing very slippery oil like conditions. This condition can be very dangerous especially when stopping, accelerating and cornering. When riding you would always do your best to avoid oil on the road. Likewise, you should do your best to avoid leaves.
Another serious condition caused by falling leaves is the covering and camouflaging of road hazards. What may appear to be a small pile of leaves may not be a pile at all but in fact a few leaves covering an obstruction on the road such as a rock, stick, or chunk of asphalt. Patches of leaves may also cover other serious road obstructions such as potholes, large cracks, and uneven road surfaces. All of these serious obstructions could cause you to lose control of your motorcycle.
The best thing to do while enjoying all the beauty of a fall ride is to make an effort to avoid riding through those tempting piles and patches of leaves.
Enjoy the fall, ride safe, and get out there and see those beautiful colors!
Greg