BRING A "JUST IN CASE" KIT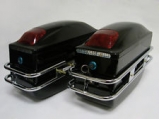 What's the best use for your saddle bags? For packing things you never want to be without when on the road 30 minutes from home or 300 miles from nowhere? Clothes? Food, Beer? Although all of these things are needed when 300 miles from home, you can divide them into two categories:
1.

Things you need to access quickly, while riding.

2.

Things you will need, but can wait until you're off the road for the day and settling in for the evening.
For category #2, use your tour pack or waterproof duffel bag, or strap on luggage. That's easy… now for the rest:
Let's look at what you should put in your saddle bags. As you look at what you are packing, saddle bags should be packed with the critical items you'll need on the road, to get you going again quickly, or to tend to your personal needs when necessary as you ride. You may also want to include your tool kit, your rain gears, gloves and a "just in case" kit. This kit can be assembled into one zippered soft bag and can include any or all of the following:
v

Swiss style pocketknife or multi tool,

v

Bike lock, *Tire pressure gage,

v

X-tra sun glasses,

v

Energy food bar,

v

Water,

v

First aid kit,

v

Duct tape,

v

Cell phone charger,

v

Utility light,

v

Emergency contact numbers

v

A complete detailed Next of Kin info,

v

List of medical conditions and medications,

v

HOG Touring Handbook,

v

Bike Registration, insurance info, etc.,

v

Motorcycle owner's manual,

v

Side stand board,

v

Sunscreen+lip balm,

v

Bathroom tissue,

v

x-tra credit card and emergency cash ( only if you have locking saddle bags ).

v

Tire repair kit and C02 inflation cartridges.
If you still have room left, a few handy bonus items may include motorcycle jumper cables (much smaller than those used for a car ), *A syphon tube with squeeze bulb pump, * Small portable air pump. * X-tra quart M/C oil.
*Note: Keep all paperwork items in a waterproof ziplock bag, ie: registration, insurance and contact info, etc.
Still have room left? Ask your spouse or significant other what they need..
LOL….
Best Regards,
Bard Boand