Winter Riding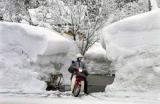 By Ric Case
Senior Road Captain
OK in the last two KK's we heard about Fall riding and storing bikes. But what if you don't want to store the bike?
But what about hard core winter riding? Well it takes thin and thick blood and lots of guts. Can it be done safely? Yes with proper pre-cautions, forethought and a few safe practices.
Dressing for Sub-Freezing Temperatures
First when riding in sub-freezing temperatures, it is best to address those temperatures with electric accessories such as gloves, handlebar grips, vests, jackets, and pants/chaps. Now with all of that gear plugged into the bike, best make sure your bikes electrical system can handle all that electrical draw without blowing fuses. If you are a first timer and want to see if this is something you want to do, you might think of trying snowmobile clothing and be sure you enjoy the cold riding before investing money in electric. (I can lend you all sizes.) When using snowmobile clothing, make sure you can operate all the controls safely because it is bulky.
When riding in these cold situations, make sure that no skin is exposed. I still remember using my Honda Shadow in an emergency situation to ride five (5) miles to the train station when the temp was -22. Although I did not encounter frostbite it took many hours to get warm especially my extremities. Come to the meeting for some examples of helmet dos and don'ts when riding. You'll want to know how to keep the visors from frosting! So now you are warm and comfortable. What else do you need to be concerned about?
Warming the Equipment
Tire pressure is critical and so are warm tires, to ensure you will have the best traction available. Brake pads and routers need to be warmed before maximum pressure can be applied. So warm them up with light pressure when you first start your ride. Warming the bike before you leave will allow you to use the heat coming off the engine to help keep you and the bike parts warm.
On the Road
Weather is always a concern but with freezing temperatures there will be condensation in the air. This can cause icing and black ice. Larry Scalzitti has some snow riding experience. After one of our meetings, ask him about it.
When riding, look far ahead (MSF anticipated path of travel is twelve (12) seconds ahead whenever possible) and be prepared for slick conditions. Remember when encountering them, always slow as much as possible before getting to the slick spot in the road, keep the bike as upright as possible and try not to make any sudden maneuvers.
All the tips and techniques from fall riding also apply here as well.
In the past, we have had a New Years Day ride to experience cold weather riding if you were prepared and brave enough. Anyone game?
If you are healthy, hearty, and mentally prepared, a cold weather ride can be an enjoyable experience.
Keep the rubber side down!
Ric "Clutch" Case
Your Safety Director