Let's Get Physical
By: Gene Rigsby, Road Captain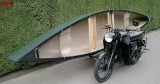 Get out and hike, I mean bike. No, I really mean bike, then hike, then bike…
Contemplating a subject for this month's Kaution Kroner, I considered the sort of "usual" topics for this time of year like TCLOCKS, severe weather riding, etc… which are very important subjects, no doubt. It is difficult to come up with a subject for the article that will be of interest to the club – and to me as I research the topic. So…
I reviewed the past topics. In this year alone, there have been articles published in the ROAR outlining taking care of YOU when riding; Tips like, keeping hydrated, having the proper riding equipment to match the environmental conditions, no matter what it may be and to be prepared as it changes throughout the day with sun protection, clothes, etc…, We all have been fully informed about taking care of yourself AND your rider at an event. No possibilities found here…
It was becoming more and more difficult to identify subject matter as I reviewed some past rides with combined events;   I reviewed the club ride suggestions that I have heard and considered for this year. I have been a member of the Top Cats for a few years now, and during that time we have ridden to some great events. For instance, Cantigny, for a civil war reenactment and to tour the grounds and museums, the fly in breakfast in East Troy to check out some cool planes and cars and even some motorcycles and Argon laboratory to tour the facility and see a Higgs Boson, to a name a few.  Rides with an educational component too!
So, My proposal in this article is…. consider a ride where the midpoint of the ride is an event like hiking or canoeing or horseback riding, sailing, fishing or some other SPORTING activity.   As I've talked to the membership, each member has an interest in at least one of these things. So, adding this to the rides would be easy…. BUT – It could also put an additional stress on the participants (riders). So, when taking on more challenging events like this we need to keep in mind that we still need to return home safely.
Here are some items to consider:
–          Bring the proper equipment –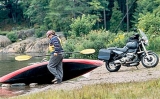 For example, if the trip includes a hike, bring proper boots to support your ankles as riding with a bum ankle would be very difficult
Right clothes for the environmental conditions (hot, cold, wet, etc…)
Maybe bring a change of clothes if you may encounter wet condition, as taking a canoe trip may bring.
–          Protect yourself –
Sun protection (lotion, hat, sunglasses, etc…)
Great riding boots don't always equal good walking shoes or hiking boots, so maybe bring a pair of comfortable shoes to change into rather than wearing riding boots making a walk around a town or event more bearable and easier to get back on the road later
–Protect yourself –
Give yourself time to rest during the event or prior to leaving for home to ensure you're at your best possible physical and mental state to ride safely

Keep hydrated by bringing water on a hike or during another adventure

Have a snack to keep your energy level up. Not that we won't stop for a meal or… yes, ice cream!
-Prepare for any special needs –
Bringing medications or any other item which will help keep you comfortable. A baseball cap and maybe even a change of shoes. I think I mention this so much because I forget to do this myself until I start walking around and my feet are sore.
–          Additional considerations –
Along with the extra gear, remember to balance your load. Bard wrote a good article about this topic several ROAR issues ago, but basically use common sense when packing like. Taking only what you need and keep the heavy stuff low and balanced.
I really hope these tips are helpful for any future ride you take, as we have some great rides planned for the remainder of the season.   But, I also hope we start to see more rides with a bit more adventure mixed in to keep our adventurous natures engaged….
See you on the road, or on a trail, or on a creek…. or??
Lucky